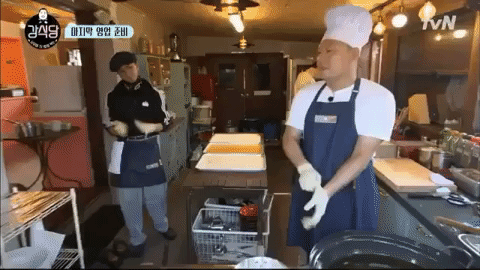 I'm doing weekly round-ups now, which will include any media I consumed for the past week, from Monday to Sunday. I'd be glad if you end up getting some recommendations but I'm only doing this as a form of a media journal (to make it easy to write reviews later on). And fine, an actual journal too. Here goes!
~MUSIC~
omg I have listened to NOTHING ELSE this week except "Second Night of Summer" from the recently released Blue Madonna album by BØRNS. I AM OBSESSED WITH THIS SONG. I think I'll end up listening to Blue Madonna exclusively until WINNER comes back with a new song. I can love one track a week or something. The lyrics to this song and its sound, I CAN'T GET ENOUGH OF IT.
~KDRAMAS~
Part-Time Idol / Temporary Idols: I ship Su-hyun and Hyun-bin SO MUCH. I really enjoyed this one and I actually reviewed it too this week so just check that out for my full thoughts on this one.
Prison Playbook / Smart Prison Living / Wise Prison Life: And it's over and I am both okay and not. The last two episodes were such emotional rollercoasters. I kept on pausing because I was scared what's going to happen and I just wanted everyone to be happy. I cried so much in these two episodes, both at the happy and sad moments. I love all of these people so so much, I already miss them. And yet they felt so real to me that even if the show ended, I feel like they're still living their lives. And yet that makes me sad too because WHY CAN'T I SEE HOW Y'ALL ARE LIVING NOW I WANNA CATCH UP. I thought what happened with uri Haerongie was well-researched and true to statistics but it still made me sob because ANDWAEEEEEE. I am now a fan of Shin Won-ho PD and I'll definitely watch the Answer Me series asap.
Hwayugi / A Korean Odyssey: These were the episodes (5&6) that made me connect with the show. Up until now, I badly yearned to connect with the show and the key to that happening was me rooting for Seon-mi's character. And now that I do, I'm so in. I felt the heartache she was experiencing, falling for someone whose feelings are fake. Trying to stop herself even though it's futile. Oh-gong was so hot and cold that I feel so bad for Sun-mi. I like where the story is going but I still think the scenes are still too choppy and that it feels like we're only going from one scene to the next. I guess the monster-of-the-week format still needs smoother and better transitions and introductions. I was also able to watch episode 7 and petty and jealous monkey is fun. HIHIHI. I want more of him falling in love with her!!
~TV~
Lovesick / Scrotal Recall: I rewatched the third season with Cel and Q, because it's our tradition to watch this one together. I noticed some things I didn't when I first saw it and it was also wonderful to have people to discuss it with. I love these characters, I love this show. That ending was so fitting and so good and I just, I'm gonna miss the gang. I can see myself rewatching Lovesick every year or so.
~TWDRAMAS~
Bromance: After watching seven episodes in almost one go, I was only able to watch one episode this past week. Prison Playbook was of course, top priority the past week, and my obsession with Part-Time Idol was consuming too, making Bromance sit on the backburner. I'm hoping to get back into it though because it's so easy to watch and I can honestly finish it quickly if I just find the time. Hahaha!
~FILMS~
The Shape of Water (2017): I never thought Guillermo del Toro would ever write/create a romantic story and succeed at that too but HELLO HERE COMES THE SHAPE OF WATER. I only have praises for this film. The production design, the coloring/cinematography/palette, the musical score, the acting, the story, ALL WERE ACES. The symbolism and social awareness were high and there was no single prop/thing/plot that wasn't eventually used. And what's amazing is that, you don't see it coming. They didn't feel conveniently placed. The story was tight and moving and I LOVE IT I LOVE IT ALL. Chekhov's gun at its finest.
~BLOG~
I reviewed (more like spazzed) about the Korean web drama Part-Time Idol and then I also reviewed the Japanese animated film A Silent Voice (Koe no Katachi) in the lens I saw the movie in.
***
How about you? What are you watching or reading these days? Any recommendations for me?