KDrama review web drama edition! Since 2017, I've been into web dramas. They're usually short and sweet, with the occasional WTFs thrown in between. And sometimes, you watch two consecutive ones that are all about PPL (product placement). Which is what happened when I saw Momo Salon and Be Positive around the same time. Haha! Anyway, thoughts and rambling under the cut!
***
Be Positive: It's short, only 60 minutes in total. I didn't expect much so I wasn't disappointed. It's simple and straightforward and it's just easy watching. You could do without watching it but since I wanna see Kyungsoo's face, I think I might see it again. Haha!
Anyway, this web drama was financed by Samsung and so, its PPL of Samsung is IMMENSE. They're film students who don't have the money to make the film they want to so they apply for a grant/sponsorship from Samsung. Clever way to do it though.
Obviously, I adored Kyung-soo in this one. Before this, I've only seen him in his film My Annoying Brother and on his Knowing Bros guesting with his EXO members. And I'm just so floored by his acting and range. In here, he's a nutty and adorable character, who tries really hard and has his heart on his sleeve. He was silly yet hardworking. Look at him!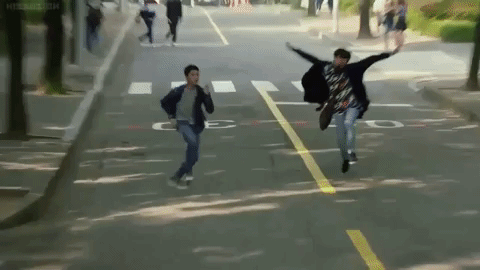 This is where I also first saw Chae Seo-jin, who was good in Lingerie Girls' Generation. She was the love interest to Kyung-soo's character and I SHIPPED THEM SO MUCH. It's a second-chances romance and when they meet, there was so much unresolved feelings but you know that they still love each other. It was fun watching them work through everything out and finally be together at the end.
Also, can Kyung-soo act more? I just want to see him in more MORE MOAAAARRR! His range! His character in here is so completely different from his other characters and it's a shame that he doesn't act more!
So, for what it is, I enjoyed this short web drama and the hour I spent was all worth it even if the story isn't that deep. I JUST WANT TO SEE KYUNG-SOO'S FACE OKAY
***
Momo Salon: I love how the message of this drama seems to be like there's nothing a new haircut can't fix. Hahaha! Anyway, as for Momo Salon, it's so short and the whole point is to promote GMarket for online shopping. I love how the heroine got business for her salon. She basically took the packages delivered by GMarket for other people who weren't around so they'd go to her salon and maybe get a haircut. And a manicure. And everything else. Hahaha!
Our hero looks so dorky and he ends up getting constant haircuts to see the heroine again and again. HOW CUTE IS THAT! At first, it was only for a job interview, but then he comes back and even helps her innovate stuff for her salon. It's just a cute short all around. Nothing big happens and it's very much just some scenes stitched together because every episode there's a new customer/thing to solve. I was commuting and stuck in a long ride when I saw this and it was a nice way to pass the time.
***
There you go! I love web dramas. Do you have recommendations for me?