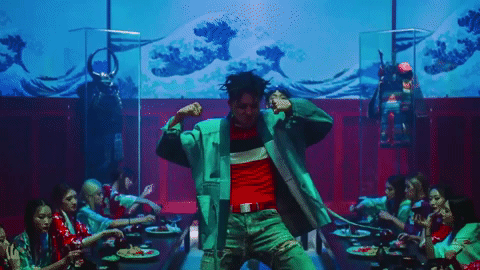 I'm doing weekly round-ups now, which will include any media I consumed for the past week, from Monday to Sunday. I'd be glad if you end up getting some recommendations but I'm only doing this as a form of a media journal (to make it easy to write reviews later on). And fine, an actual journal too. Here goes!
~MUSIC~
BØRNS released a new album last Friday and you know it, I'm all over it since it dropped. So soooo good. I've been NEEDING for him to release a new album for a year now or more and FINALLY. FINALLY. I'm so so so happy! If it's not yet obvious, I am a BIG FAN. I listen to my Dopamine CD all the time when I go to work. I never get tired of the songs and Blue Madonna seems like it'll follow Dopamine's trajectory in my heart. Please give BØRNS a listen!
~KOREAN VARIETY~
Kang's Kitchen: Mino's back! But seriously, this episode cracked me up so much. And made me crave for kimbap so I made a breakfast kimbap the next day, inspired by Sugeun's own kimbap recipe. (And yes, I can just randomly make kimbap rolls because I always have Korean cuisine ingredients.) I seriously love this cast with all my heart. I'm already sad that it's over but I am SO looking forward to the director's cut, along with the Winner over Flowers unaired clips. NJTTW FOREVER.
WIN: Who is Next?: I decided to watch this show to finally see the origin story of WINNER. I call myself an IC and I haven't even watched this one? I feel so fake! Hahaha! Anyway, omg, I didn't know I could love WINNER even more but after watching this, I think I'm ready to protect them at all costs. I will support them forever. Also, I didn't know I could love MINO more but I DO I DO I DO. Mino owns me now. Seriously. My baby. This show was heartbreaking too and I just, I also want to get into iKON now. Someone has a crush on B.I. and yes, it's this girl. Hahaha!
~KDRAMAS~
Prison Playbook / Smart Prison Living / Wise Prison Life: This show owns my heart and I am not ready to deal with it ending yet. I LOVE EVERYONE. Lt. Paeng is the softest softie ever and I was surprised that the warden was #TeamPaeng. And good lord, things were intense too! I love the Je-hyuk Protection Squad and our Hanyang-ie is the best and I JUST LOVE EVERYONE I AM NOT READY TO PART WITH THESE PRECIOUS CINNAMON ROLLS YET
Hwayugi / A Korean Odyssey: So I couldn't take it anymore, I had to watch Lee Seung-gi's comeback drama. And I adore him and him in this one, I do. But I just don't have a connection yet with the show. I think it's with the writing. It's so wishy-washy with the demons/ghosts/spirits coming in and out and while I don't think they should all have backstories, they're so flitting that I find myself feeling like they're so inessential and just taking too much time with the runtime. I find the comedy entertaining and Seung-gi is SO amazing as Oh-gong and I love the tropes the Hong Sisters employed in this drama but I NEED TO CONNECT! I don't blame Oh Yeon-seo's acting but I do find her kind of stiff right now although she's kinda improving too, as we get to know her character. The drama revolves around her so I hope the drama gives her more things to do so she can also showcase her comedic chops and talent! I saw the preview for the next eps though (5 & 6, since Netflix is a week late with the eps) and she's gonna show more emotion and I LIKE THAT I'M HERE FOR THAT. I really want to connect with the show! P.S. Cha Seung-won and Lee El are amazing.
~ANIME~
Free!: So, that was boring to me? The plot was clunky and I just wasn't rooting for the characters. I couldn't connect to them and while I understand them in my mind, I wasn't with them emotionally. I don't know if it's because unlike Kuroko's Basketball, which there were lots of games and exciting ones at that too, the lack of much swimming in this first season was disappointing. And when there were games, it's just all over so fast. I know that's how swimming goes, which now I feel like isn't a sport that's going to be good presented in this format. I'm babbling but basically, I was bored. Not continuing with the second season and that's good news too since only the first season is on Netflix.
~TV~
The End of the F***ing World: I take back what I said last week about the not understanding/connecting with the characters because oh boy did they grow on me. What a beautiful, fascinating trainwreck James and Alyssa was together. They kept on making mistakes but I just ended up loving them the more they did. Also, THAT ENDING. Unlike others, I don't really need a sequel because I think it was a full story and a perfect ending. I also love how this show touches on A LOT of topics and sensitively at that. We're just all fucked up in our own ways, aren't we? And we all just think that no one loves us but there really are people who love us? GAH, I feel like this is going to go on my rewatch-soon list. And seriously, the soundtrack is lit and perfect.
~BLOG~
I shared a story about how I discovered the exception to my Chronic Second Lead Syndrome and reviewed the Taiwanese drama Murphy's Law of Love while at it. I also posted Jung Hye-sung's High Cut Korea photos and then I made a lil pimp post for Jang Ki-yong HIHIHI And then I got crazy and spent HOURS on making subs for the first episode of Todome no Kiss even though they suck. They're sort of serviceable but only use it if you're desperate!
***
How about you? What are you watching or reading these days? Any recommendations for me?