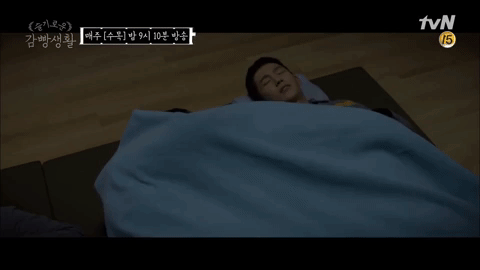 I'm doing weekly round-ups now, which will include any media I consumed for the past week, from Monday to Sunday. I'd be glad if you end up getting some recommendations but I'm only doing this as a form of a media journal (to make it easy to write reviews later on). And fine, an actual journal too. Here goes! (Three weeks worth because the holidays got to me and I ended up too lazy to blog.)
~MUSIC~
This song has been on constant repeat for godknowshowlong. And I'm still gonna ring the new year with it because IT'S SO DAMN CATCHY AND I HAVEN'T KICKED IT YET.
~KOREAN VARIETY~
Kang's Kitchen: I'm eternally grateful to The Lost Dragon Ball Subs team for picking this one up and subbing it for everyone because no one would! Nothing from Viki or Viu and the raws kept on accummulating, unsubbed. So I was able to watch the first episode thanks to them! Then since it's the holidays, I was home and I was able to watch the second and third episode on tvN Asia. (Internet's too slow in the province to download.) And I just love these boys so much. It's definitely different than New Journey to the West since they're running an actual business in here. So real. Much work. But as expected from Na PD shows, it was still entertaining and KINDA STRESSFUL TOO BECAUSE I JUST WANT THE BOYS TO SUCCEED! Hahaha. Can we just have NJTTW spin-offs ALL THE TIME when there's no NJTTW?
Knowing Bros: I only know Jiwon from Sechskies but I took a chance on watching this episode because I heard Sechskies was funny in Weekly Idol. And they proved it because THIS EPISODE WAS HILARIOUS. I kinda wanted to start stanning them after. Usually, Knowing Bros is funny in large part because of the hyungs (and how well they jive with the guests) but in here, the hosts didn't need to even make an effort because Sechskies were making everything roll AND HILARIOUSLY AT THAT.
~KDRAMAS~
Individualist Ms. Ji-young: I've noticed that I go through a drama slump every other season/cycle. And since This Life is Our First ended, I have been adrift and I believe I will only be able to livewatch a drama in the coming spring season/cycle. But drama specials are exceptions because they're essentially just a movie and I don't feel daunted because they're so short. And I'm SO glad to have watched this one after snobbing it before. I came across raves so me being the person that I am who follows populist hype and recommendations, I watched it while waiting for my runs to be done at work. And I expected it to be good but I didn't expect to have a misanthropic heroine! Love the characters, the plot, and how it was all handled. Love didn't heal them and made them completely new people, which feels refreshing. Like, WHAT A CONCEPT. There's no magical love-cures-all but it was more like, I-love-you-so-I-will-try-very-hard-to-not-revert-to-my-walled-self. Min Hyo-rin and Gong Myung's chemistry was so palpable, it crackled in the air. Whether they were bickering or being sweet to each other or being completely hateful and hurting each other. After finishing it, I wanted to watch it again just because I want more time with these characters.
Buamdong Revenge Club / Avengers Social Club: Since I couldn't start any kdramas (until late in the month), I just finished the ones that I needed/wanted to. And Buamdong Revenge Club kept with its brand of heartwarming comedy-drama about this amazing found family. The sisterhood was touching, as well as everything else. PETITION FOR THE KIDS TO HAVE THEIR SEPARATE ROMANCE DRAMA PLEASE AND THANK YOU. I feel like I've already talked too much about this drama but then I realize that I didn't talk about it here but in Dramabeans. Heh. Love all the meta too! The ending wasn't exactly how I thought it would be but that's not necessarily a bad thing. I wanted Jung-hye to adopt Soo-gyum but what went down was actually good too. Jung-hye doesn't even know who she is so I'm happy that she took the time to get to know herself. The ending lends a chance for a second season but also not hinting at it so I'm not keeping my hopes up. (Lbr, I also really want to see Jun again. HAHAHA)
Prison Playbook / Smart Prison Living / Wise Prison Life: AND THIS ONE TOOK MY HEART AND RAN AWAY WITH IT TO THE LAND OF WAITING FOR NETFLIX TO DROP EPISODES. I started the first episode with no expectations to love it. I figured I might as well try this one to see if it's for me so if it's not, I can just not watch. THEN I ENDED UP FINISHING ALL AVAILABLE TEN EPISODES IN 2 DAYS. What is life. What is sleep. The episodes are soooooo long and almost nothing happens and yet they don't feel that long and all I wanted to do was to binge it. Just goes to show HOW MUCH I LOVE THE CHARACTERS. I just love spending time with them. Love the brand of dark comedy and Je-hyuk and his squad are my favorite people in dramaland right now. So pure, the love! I cried, I laughed, but most of all, I always felt for everyone. GAH this is so beautifully directed too! The cinematography is aces and I JUST WANT MORE AND DON'T WANT IT TO END
~JDRAMAS~
Minami-kun no Koibito ~ My Little Lover: And with me not having the EQ to follow currently airing kdramas (until late in the month), I turned to jdramas. Long live brevity! I didn't go to work one day (I excel in truancy!) and I ended up starting and finishing this one that day. This one was cute and such a light and breezy watch. Please do not expect an intricate world-building and ready your suspension of disbelief. It was a brainless watch for me but one that I enjoyed. So much. I had a smile while watching it and after it ended. The plot is simple but the leads were cute and effective and had chemistry so the romance was on-point and sweet and cute. I just keep on saying that it's cute because IT IS WHAT IT IS!
Erased: This was thrilling albeit I wasn't shocked by who was behind the killings and the kidnappings because I had a hunch that it was that person. That didn't diminish the entertainment factor because I couldn't stop watching the show. However, whenever we went back to the present timeline, my interest in the show admittedly greatly diminishes. The middle school timeline was so engaging and the acting was great. But then the present timeline actors were meh and I also didn't like how the romance was forced. SHE'S A HIGH SCHOOL SENIOR FOR CHRISSAKES. Seriously, I was just sad whenever the timeline shifted because I WANT TO BE IN THE MIDDLE SCHOOL TIMELINE FOREVER. They should have casted a better actor than because he was just lacking, both in presence and acting skills. He wasn't natural and was a bit stiff, with some emotions not coming across. Too bad, really. I would have loved this show wholeheartedly if it weren't for him. But whatever. Loved the plot, which I heard was directly and purely sourced from the manga, making it a faithful adaptation. But the best bit? THE CINEMATOGRAPHY. Good lord it was so beautiful to behold.
Okitegami Kyoko no Biboroku: HOW CUTE. And yet how life-affirming and carpe-diem-inducing. I WANT MORE OF KYOKO AND YAKUSUKE!!! CAN WE HAVE A MOVIE AND A SEQUEL??? Not because the story wasn't finished but because I WANT MORE TIME WITH THESE CHARACTERS HUHU. The mystery aspect of the show is light, afterall, cases had to be solved within the day.
~TWDRAMAS~
Murphy's Law of Love: AND I FINISHED IT BEFORE 2017 ENDED! Yay me! I'm kinda irked at myself for never trusting this twdrama when time and time again, it has proven that it's not like other twdramas. It took me a long time to finish this one because anytime that angst seems to crop up, I preemptively stop watching and wait until I feel like I can be patient for senseless extended angst and irritating characters. TwDramas are so notorious for those. But lo and behold, every time I pick it up again, I realize that the show never intended to go there. The characters are mature and while they did hit the angst/break-up plot point near the end, it was needed and understandable because it's for their own growth. Of course it was still painful and for a while there I thought it's not going to be a happy ending but YAY romance lives! More twdramas like this, please!
~TV~
Mr. Robot: THAT WAS INTENSE. And now we wait a full year for the fourth season. I CRY. I trust in Sam Esmail but admittedly, I don't know what to feel with a full reset/restart. *vague opinions on the finale so as not to spoil anyone*
~FILMS~
Star Wars: The Last Jedi (2017): I am on the land of unpopular opinions because I didn't love this as much as everyone. So, yeah. I think I'll post a proper review soon. I did rant about it on two separate occasions to two friends so hopefully I don't feel lazy to rehash my points again (since I already have an outline).
Nerve (2016): That was actually kind of intense! Liked the plot and the cinematography. The ending was cheesy but I don't even care anymore because I've been shipping Emma Roberts and Dave Franco ever since their music video for Go Outside by Cults came out. I know they're only friends but it still delights me to see them together in a movie. And that they have a cute friendship. (Because of course I've already watched most of their press interviews. Haha!)
Adult World (2013): Heh, was my holidays an Emma Roberts binge? Kinda? I adore this film because HELLO I ALSO FEEL LIKE A PHONY ADULT WHO WOULD AMOUNT TO NOTHING. While I do like the message, the resolution/ending was too unrealistically simplistic (oh, I put in the work and now I'm v v successful!). I do appreciate Emma's acting in here. It's not a great performance per se but I love her portrayal of the main character. Also, Evan Peters *heart*
Get a Job (2016): HA HA HA this was also cheesy and the ending unrealistically simplistic but who cares, I actually laughed at the jokes in here. The characters were so basic and stereotypical and I don't really have a lot of positive things to say about this movie. I don't really have much in the negative too. It was entertaining but certainly not something brilliant or something I'd see again. AKA I don't have any strong feelings for the movie. Such a shame though because it's Anna Kendrick + Miles Teller (my faves!) and you even have Christopher Mintz-Plasse too but yeah, I understand why it took two years for this to be released/picked up. Alison Brie though HAHAHA
Bad Genius (2017): A+ OHMYGOD THIS WAS AMAZING. Just see it. Plot, cinematography (those angles!), music cues (made me so nervous!), acting, EVERYTHING WAS AMAZING. I also love the subtle message and while a friend of mine thought the ending was a buzzkill, I love how everything is now reversed and the system has turned the tables. GAH JUST WATCH IT PLEASE AND TALK TO ME
The Liar and His Lover (2013): While I haven't seen the kdrama adaptation, I feel like by virtue of its length, it's gonna be better. So jampacked with no time to flesh out the characters and track the romantic trajectory realistically. I didn't feel that he was in love with her. If anything, she was his muse and that was it. I was disappointed, especially maybe since I already know the plot and it felt like the movie was just ticking them off, with no real feelings and/or movement. Kinda hate that it was the last movie of the year for me. Hahahuhu
~BLOG~
My year-end review submission was posted over at Dramabeans! Yay! On this blog's front though, I have been bad at writing reviews or publishing posts. Words weren't just coming, which was ironic since I didn't cram my Dramabeans submission this time because words were there. WHY ARE WORDS SO FICKLE
Anyway, I did review the jdrama Ito-kun A to E and the kdrama Strong Woman Do Bong-soon. And I shared the songs that made into December's playlist.
***
How about you? What are you watching or reading these days? Any recommendations for me?