I'm doing weekly round-ups now, which will include any media I consumed for the past week, from Sunday to Saturday. I'd be glad if you end up getting some recommendations but I'm only doing this as a form of a media journal (to make it easy to write reviews later on). And fine, an actual journal too. Here goes!
~MUSIC~
These Filipino kids (some of them are in high school!) know what they're doing. I can't get this song out of my head this week! I'm planning to go to one of their gigs with my friend Sarah whenever they come around my side of Metro Manila. Hahaha!
Also, BØRNS released a new song!!!! And I love it so much. SO EXCITED FOR THE ALBUM
~KOREAN VARIETY~
Knowing Bros Episode 62: After seeing clips of Heechul and Leeteuk talking about each other's dating lives on Youtube, I had to see the whole episode for myself. So Lianne and I saw it and we were so entertained. Mostly by Shindong's stories. Hahaha! We're well on our plan to watch episodes with SuJu members just to hear more stories from Heechul and the members. Especially if it's about dating! Hee.
I miss New Journey to the West so much though. I wasn't in the mood for kvariety this week (HOW IS THAT EVEN POSSIBLE?!) so I still haven't finished Wizard of Nowhere (more like I'm trying not to finish all of the available episodes now that they're on strike because then I wouldn't have anything new with Uhm Ki-joon for those days I need it), Half Moon Friends, and It's Dangerous Beyond the Blankets. I guess it's because the drama I've been addicted to this week is so fun that I don't need the boost from kvariety shows? I did rewatch New Journey to the West to see these goblins.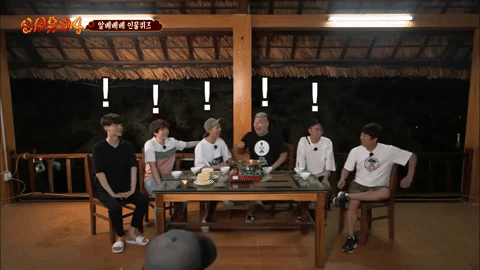 ~KDRAMAS~
Strongest Deliveryman: IT'S OVER. I wanna talk about Strongest Deliveryman and I think I have a lot to say so this would get long if I ever even try to touch the surface of the well of words I have. So I'll just blog about it in a separate post. Stay tuned for that!
Strong Woman Do Bong-soon: Last Saturday (as in last week), I was at episode 6. And it wasn't totally planned but I ended up finishing it this week?? I mean, even with work being so hectic??? I don't know how that happened but I did. (I know, I was sick last Thursday so I didn't go to work and I had time to watch.) MIN-MIN! BONG-BONG! So cute these two. MY HEART SO CUTE SO FUNNY SO CUTE SO CUTE. I also have wordssssssssss (because it's not perfect, even if I really like it) for this show so be sure to check out my review once it's up!
While You Were Sleeping: I think I've babbled enough about it since I posted a premiere watch but GOOD LORD, this wasn't part of the plan! I already foresee that I'll be stressed about this show, especially as it seems to like cliffhangers and twists, but I'd gladly take that stress. It's been a while since I've gotten this excited over a show and I welcome it. I NEED IT TO BE WEDNESDAY NOW.
Girls' Generation 1979 / Lingerie Girls' Generation: I decided to watch this one because it's finale week and it seemed the right time to catch up to this eight-episode drama so I can catch the finale. I DIDN'T REALIZE IT WOULD BE THIS CUTE SO CUTE MY HEART. And also, I DIDN'T REALIZE IT WOULD ALSO ACHE LIKE THIS. What is it with high school romances that just makes me so giddy and makes me so wistful? I love how they're so pure and earnest with their crushes. It's just so real too. So excited for the finale because I wanna know what happens next but I also don't want it to end. I marathoned all six episodes in one go! I WANT MORE. CAN'T THIS BE A FULL-LENGTH DRAMA?
~JDORAMAS~
Otomen: I casually started a rewatch because I was in the mood for Okada Masaki as a high school student. Oh, those were the days. SO CUTE. I'm not really rushing to finish with it because I wanna savor him and this rewatch.
~TV~
Brooklyn Nine-Nine: I know, I still haven't caught up with this show! And with You're the Worst and Broad City. Huhuhu. Anyway, Sarah dropped by my apartment the past week and we watched the season three's Halloween episode and HAHAHAHAHA I MISS THE GANG! I REALLY NEED TO WATCH IT ESPECIALLY THAT THE FIFTH SEASON'S BACK! And that all four seasons are on Netflix so WHAT'S MY EXCUSE?!?!
~BLOG~
I shared Lee Min-ki and Jung So-min's photos for Marie Claire Korea's October 2017 issue. I also reviewed two web dramas with WINNER members as leads, Magic Cellphone and Love for a Thousand More. Then, I shared my thoughts on the first four episodes of While You Were Sleeping. I also asked your help for planning my Stranger Things viewing party. Help me? Lastly, MY SUBMISSION WAS POSTED AT DRAMABEANS!!!!!!!!!1111 EEEEEEEEEEEEKKKKKK It's about when actors go extra and sing for their own dramas. Mine is the first one. Hope you go read it!
***
How about you? What are you watching or reading these days? Any recommendations for me?