THIS IS SO NOT PART OF MY PLAN! I wasn't supposed to watch While You Were Sleeping. For one, I am not a big fan of Lee Jong-seok. Don't brick me, I think he's a good actor but I'm not following each and every project he makes. Second, Suzy. We all know she isn't a talented actress so I don't exactly look forward to her dramas. And lastly, I gave it a chance and checked out the teasers and the trailer but I wasn't enticed by them. So I was set to pass on this one. But here I am, telling you my thoughts on While You Were Sleeping's premiere week. Life is indeed full of surprises.
Reason/s for Watching
I only have one reason because as I said, this wasn't part of the plan! I read the recap for the premiere over at Dramabeans (because I always do, even for dramas I don't plan on watching AT ALL) and good lord, it was so good. REALLY GOOD. The plot tickled my fancy and curiosity that I needed to know what happens next! So I went ahead and saw the first two episodes.
***Unlike most of my premiere watch posts, I'm not recapping While You Were Sleeping this time around. For one, Dramabeans has already recapped it so you'll be better off reading their recap (and I would save six hours or more). With that, I'll just comment on the episodes. I will be talking a little bit about what happens in the episodes though so there will be some spoilers. Beware! Lastly, I'll be talking about the first four episodes (two hours worth of episodes) instead of just the first two like most of my premiere watch posts.***
COMMENTS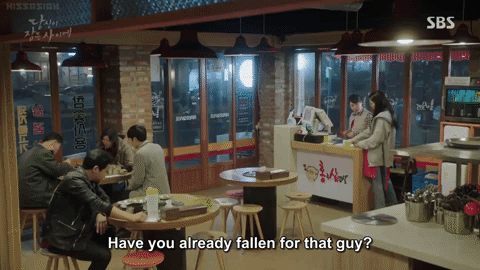 The gif above is basically me with this drama (and oppas, in general, let's be real). For all my wariness about this drama, it only took me half an hour to fall for it. Seriously. After reading the recap over at Dramabeans, I already knew what's gonna happen but I wanted to see the actual episode for myself. The plot was intriguing and definitely baited me but how about the editing? The cinematography? The acting? Are they any good?
Even with just the first thirty minutes, I was so enthralled with the show. IT WAS SO PRETTY. Seriously, I was pretty much drooling because of the cinematography. The colors, the snow. ALL THAT SNOW. It's such a feast for the eyes, I'm telling you. As for the acting, I could use more expressions on Suzy's face but surprisingly, she actually didn't bother me. I realized that Suzy is really deft at letting her tears fall because she could cry in an instant! And I was actually swept by her emotions too. So while I wished she was better, I don't really mind because the camera work (not focusing on her face all the time and thus, not showing her non-expressions) and the writing made up for it.
As for the plot, I am VERY glad that the promotional materials didn't reveal everything because I was honestly shocked by the twist. You see, promos touted Suzy's Hong-joo to be the one seeing premonitions BUT we didn't know that Lee Jong-seok's Jae-chan would have them too! After the first hour, I knew I had to know what happens next. Was it a one-off fluke?
So what did I do? I actually livestreamed Thursday's episodes.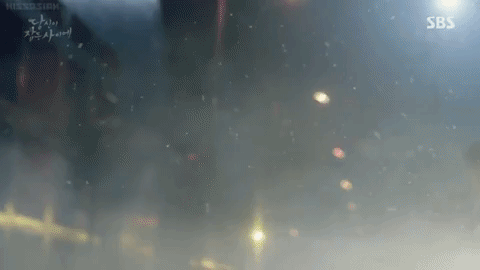 Yes, I did that. No subs, not understanding everything. I told myself it'll be the test if I really really like the drama (of course I'm just fooling myself, I just can't wait anymore) and if I'm gonna follow it week per week. And you know what? It passed the "test". I was scrambling for MORE MORE MORE I WANNA KNOW MORE ABOUT EVERYTHING. And the third and fourth episodes were successful in tickling my curiosity EVEN MORE (how is that even possible?) and making me want the next episode as soon as possible.
I like the tone of the drama because I totally didn't expect it to have its comedic moments. The trailer I have seen was very dramatic so I was preparing myself for all the melo I will face. But I'm glad to report to you that it totally isn't! Sure, there were times my tears made an appearance because of certain heartwarming and/or gut-wrenching scenes (Note: I am a crybaby though), but I also chuckled at Jae-chan's affinity for selfies and Hong-joo's shamelessness. They are so cute individually and together that I am looking forward to their scenes together, once we've set up the premise and they're all into helping one another.
I mean, I couldn't blame Hong-joo though for being a shameless puppy. I would follow around Jae-chan too just to see that pissed off face. HAHA
As for our villain, Lee Sang-yeob is killing it as Yoo-bum. I find Lee Sang-yeob so adorable prior to this drama but I pretty much hate his guts now. Effective much? Haha! I hate his character all the more because he pretends to be nice and kind, when in fact he is EVIL! How can that cute smile be evil?!?! Haha! I like the writing in this show so far (this is my first drama of Park Hye-ryun's though and I think it's time to go through her backlist) and I like how Yoo-bum's amoral/evil/sociopathic.
So far, I am invested in all the plot points laid down by screenwriter Park Hye-ryun. And we already got our answer that it seems like Jae-chan's dream of Hong-joo dying wasn't a fluke because he has another dream of his younger brother inside a cop car. I am so excited to see these two dreamers team up to prevent crimes and/or deaths. (Hopefully, it's not gonna be episodic in nature.) More importantly, I am more into learning about their abilities to have premonitions and how the past ties these two characters.
And fine, I'm excited for their cuteness too.
VERDICT: I am definitely watching While You Were Sleeping as it airs. A kdrama with an interesting plot populated by interesting characters and coupled with pretty cinematography is certainly a must-watch for me. I've been disappointed by recent dramas though being strong at the start and then fizzling out later on so I'm still wary of professing my love for this drama. But I'm pretty much there. Give me two or three more weeks of solid episodes and I'll love you, Show.