I first learned about Handsome Devil from this review on Bitch Stole My Remote. I'm a sucker for teen coming-of-age films, may it be with romantic or platonic relationships, straight or queer, just preferably with a dash of self-effacing wit and humor. After reading that review, I definitely wanted to see the film but thought that's not gonna happen anytime soon as I doubt it'll ever be shown here in the Philippines. I should have trusted Netflix though! Because as I was browsing this morning, I found this under the newly added section. Hallelujah! I queued it right away as I certainly had an hour and a half to spare. Hope you read on!
I pretty much agree with the review from Bitch Stole My Remote about Handsome Devil and I think I couldn't phrase it any better and more technical/objective too. Still, I'll just share my thoughts about this film.
As for the story, it's your typical coming-of-age film in a boarding school setting. (Gah, I love anything boarding school.) We have an artsy outsider in Ned, played by Fionn O'Shea with hair dyed red, who comes back to boarding school and rejoices to find out that he doesn't have a roommate. He's being bullied for being gay, in this school where nothing is more important than rugby. His reprieve is short as he's assigned a roommate, the new guy Conor (played by Nicholas Galitzine), the school's new rugby star, with whom getting into the finals hinges on. They get to a rough start, not really Conor's fault but his rugby teammates, but Conor proves himself a decent human being and they become friends.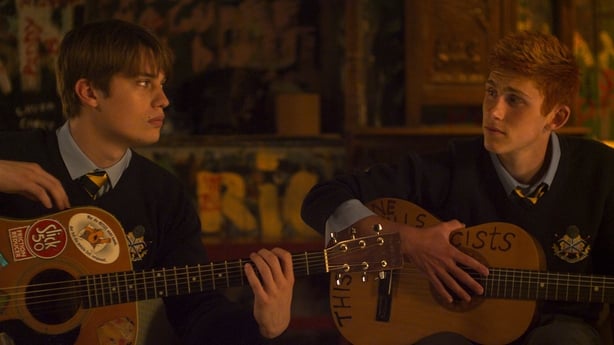 We have an English professor played by Sherlock's Andrew Scott in Dan Sherry, who's channelling some Dead Poets Society. I admit, at first, I was so disoriented to see Jim Moriarty being… nice. Seriously, at the start, I felt like anytime Andrew Scott will kill his students. Haha! Just goes to show how magnetic is his portrayal of Moriarty. Eventually, I was able to separate Andrew Scott from his previous role and see him in this and I found his performance good. He was both knowledgeable, being an adult, yet vulnerable too. And I love how as much as he taught the kids, he learned something too.
Our villain comes in the homophobic rugby coach and he's an ass for sure. He's your casual foe to our leads so at least he's not the pull-my-hair-out kind.
Sadly, I was not familiar with the alternative rock songs featured in the soundtrack so I couldn't fangirl over that but I do think the soundtrack was apt for the scenes.
But really, what made this film wonderful are the leads, O'Shea and Galitzine. O'Shea's Ned narrates the film so we had the chance to get inside his head and he set the tone of the film, with his humor and wit. (There's a bit where he got As on his English papers by submitting obscure rock song lyrics. He's that kind of guy, the guy who knows that he's better than everyone else but also the kind of guy who isn't really better than anyone else. Galitzine had a quieter role, a jock who's tired of hiding inside the closet. I quite liked his portrayal because it was in the small moments and his little gestures/actions that he was able to make his character's emotions and thoughts come across. You can just feel that he's troubled and tired of having to deny who he is.
The ending was expected but this film was such a simple feel-good one that you can queue when you're in want of something that would make you smile. I did have feelings for the ending and they were beautiful feelings. While also featuring three queer main characters, it's not exactly a statement film. It deals about coming out, sure, but it's not dramatic and preachy so everything comes natural. Am I making any sense?
Anyway, here's the trailer if you're interested! I do hope you go and see it. It's on Netflix!
P.S. Boyzone's Keith Duffy's son, Jay Duffy, is in here! And lots of cute ~lads~. I do love how I kinda know about rugby though because I've read a book called Winger before.