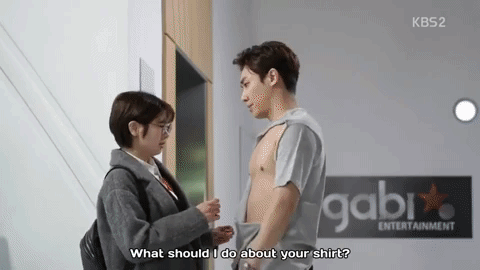 That scene was from the third episode where I ended up howling with laughter, as well as my mom, who only went to my room to escape the Wimbledon Men's Finals (she was getting anxious) but ended up watching a bit of Father is Strange with me. After seeing this scene, she left the room because she didn't want to be spoiled because she knew she'll definitely watch this show. What better way to sell Father is Strange than Lee Joon's chest, right? Hahaha!
After reading raves after raves of Father is Strange on Dramabeans and learning that the recent episodes were such hits in Korea that they've been reaching 30%+ in ratings, I knew I really had to start binging this one. As of writing this post, I've seen only up until Episode 10, which I've practically binged last weekend. I intend on binging this drama on weekends only, not only to keep up with the ~weekend feel~ but because I also love watching it on our TV's big screen (well, not really big but at least it's bigger than my laptop) while lounging in bed. So hopefully next week I'll have a post for you about the episodes I'll get into.
Anyway, I planned on writing an episode-by-episode mini-recap but with such a big and connected ensemble cast, I found it hard to start writing them. I don't even know where to start! Everyone is really connected. So I'll just write about the characters and comment on them and along the way, their background story will be told. Spoilers will be casually thrown in so proceed at your own risk! (But this is a weekend family drama, who are you kidding, nothing is shocking. Spoilers are no big deals.)
This poster is PERFECT. It includes the WHOLE cast. What did I say about the ensemble cast being so big? The plot of Father is Strange is centered on actor Ahn Joong-hee (played by Lee Joon), known as the most terrible actor in all of Korea. He was a former idol but shifted into acting, only to act on soap opera after soap opera. He wants to move away from daily soap operas and finally act on the trendy miniseries (the 16-20 episode dramas we all know). A script comes along for one, titled Oh My Boss, and it's about a son discovering his father is alive after all these years and tries to reconnect with him. He auditions but was told that he lacks emotions (one thing he's heard again and again over the past years) and it looks as if he's not close with his father. That strikes a chord and hurts Joong-hee because he never knew his dad.
Seeking to improve his acting and to get that role in a miniseries, he looks for his father and learns that it's Byun Han-soo (played by Kim Young-chul), the head of the Byun family and owner of Father's Snackhouse. He plans on meeting him but before he ends up doing so, he learns that the director can't be moved;  he doesn't want to give another chance for Joong-hee to audition. Devastated, he gets drunk and calls the drama's director, leaving a voicemail so pitiful I was moved to tears. He tells the director that he doesn't know who his father is and now knows who he is because of this drama and the director's comment of building a bond with his father so he can fully act the role.
In the morning, he berates himself for drunk-calling the director and he worries that maybe he cussed at him. Haha! His moving speech worked and he gets a text from the director that he's giving Joong-hee another audition. YAS! With this, he goes to Han-soo's restaurant, only to lose his nerves to talk to his dad when people recognize him as a celebrity.
At a film premiere, it's announced that the role he's auditioning for has been given to Jin Sung-joon, his rival. He confronts the director about this and the director says sorry but that Jin Sung-joon volunteered for the role, and no one says no to that. Pissed, he goes to Father's Snackhouse and meets Han-soo, telling him who he is. Han-soo doesn't react immediately and is in shock, which angers Joong-hee more. Joong-hee leaves while Han-soo tries to make him stay to talk. Mad, Joong-hee tears up the photo of his father with his friends in middle school. Han-soo, not knowing Joong-hee's name (another reason Joong-hee was so mad because his father didn't even ask him his name), remembers that he's a celebrity and asks his nephew who he is. They both research on him, noting his dramas.
Han-soo then visits his friend's grave and we learn that Joong-hee is not really Han-soo's son but his friend's. He seeks permission from his friend to take care of his son and to ask if he can act as Joong-hee's father from now on. Han-soo now tries to meet Joong-hee but he wouldn't give him any chance to talk. Han-soo keeps on coming to Joong-hee's place to bring food but Joong-hee doesn't eat it. He ends up talking to Joong-hee but Joong-hee keeps on rebuffing his advances to act as his father. Han-soo now does everything to get to know Joong-hee, even signing up for his fan club. Han-soo keeps on leaving food by his door and one day, Joong-hee unknowingly eats them, when Tae-boo, his manager, brings them in.
And that is what happens in Joong-hee's arc in the first ten episodes. Now, I'll try to inject everyone else into the story. Byun Joon-young (played by Min Jin-woong), the eldest and only guy among the four Byun siblings, has been reviewing and taking the civil service exam for five years. He is secretly dating Kim Yoo-joo, team manager of the art team in Gabi Entertainment, which is Joong-hee's agency. Yoo-joo acts all sweet and kind when she's with Joon-young but she actually bullied Byun Mi-young (played by Jung So-min), Joon-young's sister and the third sibling, in high school because she was fat.
Mi-young was a judo player in high school until she suffered from a shoulder injury which prevented her from playing and/or competing again. Depressed, she turns to food and ends up being fat and bullied. Up to this day, Yoo-joo scares her and is traumatized by her bullying. Mi-young has been looking for a job for three years now after losing weight and bouncing back from her depression and gets one at Gabi Entertainment, her first at 31 years old. And of course, Yoo-joo is all haughty and evil towards her. Mi-young, now an intern at Gabi Entertainment, works for Joong-hee, so we come full circle. I love Mi-young's arc because it deals with bullying and standing up for one's self. Also, hello, I am here for all the Joong-hee x Mi-young because this early on, I can see them liking each other in the future. And the kind too where they don't even realize it right away while I'm all wound up and frenzied from my flailing. Haha!
As much as I love anything involving Joong-hee, I couldn't resist Lee Yu-ri's arc, who plays Byun Hye-young, a sassy, intelligent lawyer, and the eldest daughter. Lee Yu-ri just kills it with this role. She acts so natural and she makes it look so effortless to be funny and amazing. I can heap praises upon praises for her. Her chemistry with Ryu Soo-young, who plays Cha Jung-hwan, a producer in the entertainment industry who butts head with Joong-hee in the first episodes, is off the charts! They were a couple eight years ago but Hye-young suddenly broke it up without any reason, and Jung-hwan still hasn't moved on. I love how the show is sex-positive and while not showing anything graphic, it takes it as normal for two adults to have consensual sex because they're attracted to each other. The unresolved sexual tension between the two was so electric that when they inevitably get together, it just feels soooo right.
Last of the siblings is Byun Ra-young (played by Ryu Hwa-young), the youngest and a yoga instructor. She gets a crush on Park Cheol-soo, a soccer coach at the sports center she works on. She ends up blackmailing him to go with her to her ex's wedding as her date. I sound bored but their romance arc isn't boring! It is SO CUTE because Cheol-soo is SO shy it's adorable. I mean, he's tall and handsome so you'd expect him to be a ladies' man but he's just so clueless, even hiccuping when Ra-young sees him naked in the men's changing room. Haha!
Other subplots include the petty fights between Na Young-shil (played by Kim Hae-sook), the siblings' mother, and the new landlady and owner of the building where Father's Snackhouse and their house is, which is actually Cha Jung-hwan's mother. I would be aggravated by the landlady but for now I'm kind of not because she's not that irritating. I feel bad for her because her husband obviously doesn't love her while she's trying so hard. She's also a bit dumb so it's also kind of funny sometimes. I'm generally uninterested whenever it's the landlady on the screen and I'm worrying for the future episodes because I'm sure she's gonna be such a big foil to Hye-young and Jung-hwan's relationship.
Aside from the characters I've mentioned and as you can see in the poster, Young-shil's mother and brother Young-shik, also lives in the building, albeit in a different floor and unit. Young-shik and his wife Bo-mi tries their best to provide for their family, after being scammed by Young-shik's friend. Their son Min-ha is very smart and is the top of his class. Sometimes they get their own mini subplots but most of the time, they're there during family dinners. I do love the uncle-nephew relationship between Young-shik and Joon-young because it's so realistic.
In fact, what I love about this show is how emotionally realistic it is. The siblings tease and fight with each other but when push comes to shove, they're always Team Byun. Hye-young, being the most successful and the most outspoken, feels like the eldest, especially when she lectures Joon-young of even having a girlfriend when he's been studying for the civil service exam for five years. Or how she's the one Mi-young goes to for advice when she second-guesses going into Gabi Entertainment because of Yoo-joo. Hye-young and Ra-young are almost always at odds but it feels so real I chuckle at them. (Ha, because it reminds me of my younger sister.)
Father is Strange does nothing explosive and groundbreaking but it is darn successful on making the audience feel warm and gooey with every episode. Simple gestures that you recognize if you have a family touch the heart the most. And the sympathy Joong-hee garners! Joong-hee just breaks my heart, while alternately making me laugh too. Which is what endears me to Father is Strange. It's such a heartwarming drama that I flied through the episodes. I thought I'll get bored because since I already know the basic premise, the first episodes should basically be boring for me, right? Wrong. I enjoyed the characters so much that I didn't care how long it was taking for all the pieces to be in place for the actual story to be told.
At the end of those 10 episodes, Yoo-joo discovers that Joon-young has been lying to her; his dad does not own a posh Japanese restaurant but a humble, family-owned snackbar. She also learns that she's pregnant and episode 10 ends up with her introducing herself as Joon-young's girlfriend and telling his parents that she's pregnant. UH-OH. The eldest child who's a bit of problematic, living off of his parents, is now a father.
By the way, shoutout to Al, Joong-hee's pet tortoise! OMG I've been wanting a tortoise/turtle for a pet for so long and seeing one on TV makes me green with envy! Oh and I forgot to say how it kills me how lonely Joong-hee is and how his only friend is Al and Tae-boo, his manager, although he wouldn't admit that.
I am definitely looking forward to watching more Father is Strange! How about you? Are you watching Father is Strange?