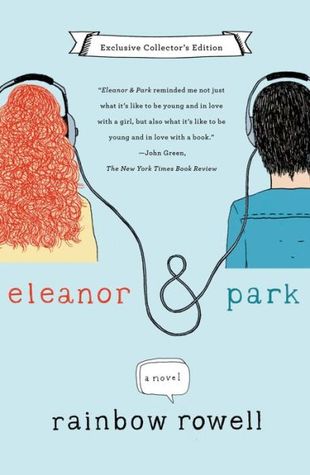 Title: Eleanor & Park
Author: Rainbow Rowell
Publisher: St. Martin's Griffin
Date of Publication: February 26, 2013
Two misfits.

One extraordinary love.




Eleanor… Red hair, wrong clothes. Standing behind him until he turns his head. Lying beside him until he wakes up. Making everyone else seem drabber and flatter and never good enough…Eleanor.




Park… He knows she'll love a song before he plays it for her. He laughs at her jokes before she ever gets to the punch line. There's a place on his chest, just below his throat, that makes her want to keep promises…Park.




Set over the course of one school year, this is the story of two star-crossed sixteen-year-olds—smart enough to know that first love almost never lasts, but brave and desperate enough to try.
My Rating: 4 out of 5 stars
Thank you to St. Martin's Griffin and NetGalley for the review copy. Although I didn't read my review copy (gosh, I've almost forgotten I had it), having received one didn't affect my reviews of the novel.
Excluding Rainbow's short story in My True Love Gave To Me and my brief stint in trying to read Fangirl along with Sab (operative word being 'trying'), this is my first Rainbow Rowell book. Yes, you read that right. I even had the gall to buy the exclusive collector's edition from Barnes and Noble. Yes, I might be crazy. I was supposed to start this when 2015 came along but Dawn made me start it before 2014 ended. Too bad I wasn't able to finish it and it ended up as my first 2015 read. Anyway, I remember one blogger who tabbed so many pages of the book as memorable and she also said that she cried her heart out. All along, I thought this is going to be a heartbreaking read and one that I'll never recover from. I told this to Dawn and said that's one of the reasons I'm so frightened of reading it (I have to WANT to cry to read tearjerkers) and the other reason is WHAT IF I DON'T LIKE IT? WHAT IF I'M A BLACK SHEEP WHO DOESN'T LOVE RAINBOW ROWELL??? That is a legitimate fear, my dear readers. Fortunately, my fear was for null because I enjoyed and really liked Eleanor and Park. Unfortunately, the reality was vastly different from what I expected and I still don't know what to feel about that.
Not to say that's a bad thing. Like I said, I hugely enjoyed reading E&P. But I thought it was a heartbreaker, a tearjerker, a gutwrencher. Dawn told me that it wasn't like that but previous notions are hard to forget. Okay, lemme stop here because it sounds like I don't like E&P. Let me backtrack a bit! (A lot.)
I now fully understand all the craze about Rainbow's writing. How could I not with these quotes?
"Holding Eleanor's hand was like holding a butterfly. Or a heartbeat. Like holding something complete, and completely alive." 
"Eleanor was right. She never looked nice. She looked like art, and art wasn't supposed to look nice; it was supposed to make you feel something." 
"He made her feel like more than the sum of her parts." 
"..I love your name. I don't want to cheat myself out of a single syllable." 
"…and his eyes were so green they could turn carbon dioxide into oxygen." 
"And you look like a protagonist…You look like the person who wins in the end."

Please stop me from quoting the whole book. It's taking all my power to stop.

Anyway, SEE? I can't quite describe her writing style but it's melodic without being over-the-top that you actually notice the effort it took to conjure how lyrical it is. It's simple, using similes and metaphors that just work.

And as evidenced by the quotes, good lord, was Eleanor & Park sweet. The amount of swoon Park Sheridan induced was incomparable to any book boyfriend I've read before. I think. I mean, I have tons of book boyfriends who I love more than Park but it's just that, everything he does is so swoonworthy. Every single page of this book was happy-sigh-inducing. I was making dolphin sounds the entire time I was reading E&P because seriously, THIS GUY. THE ENTIRE TIME. DOLPHIN SOUNDS. I was like a schoolgirl, squealing and giggling and shutting the book close just to blush. He was aloof and mysterious at first but when the ice was broken, he was too damn cute with all the right words (most of the time) but even better, all the right actions (most of the time). Just, PARK. Hee.

Let's get to Eleanor. My my, I just want to hug Eleanor the whole time I was reading. Unlike Park who grew up in a very loving family and who's so ready to give out love, Eleanor hasn't been navigating life as easily as Park does. Not only economically but in terms of being loved too. I think it was said best when Park's mom told him that Eleanor is from a big family and in a big family, everything is stretched too thin. No one gets enough. While that is true for Eleanor having nothing much to eat, clothes all from Goodwill, and almost nothing to call hers, it is very much true too for the love she gets. Eleanor is the kind of strong female character that doesn't kick ass or one who doesn't fight back (she learned early on that it's far safer not to fight back) but instead keeps and bears everything on her shoulder. Park is the only bright thing in her life and you can't fault a sixteen year-old to hold on to it as her only lifeline. I love Eleanor and I love that Rainbow Rowell wrote a female character who isn't a size two, who doesn't like to wear make-up, and just a general DIFFERENT from every other girl in every other story.

The book was set in the late 1980s, which just made everything feel just more magical. No cellphones, no Internet. Park and Eleanor only see each other during bus rides to school and at school. The lack of rush in their lives was evident in the writing as well. I adore this bit. Plus, while I usually find myself struggling with third person perspectives, it was never a problem in here. Even though it's in third person POV, we get to read both Eleanor and Park's sides and THAT WAS THE BEST.

As for the romance, duh, it was A+. These teenagers were just so enjoyable to read about. How Park first noticed that Eleanor was reading his comics and how Eleanor noticed that Park waits for her to finish reading before turning the page. It was just ALL. SO. CUTE. All the squeeing! But don't think that this is all fluff. It also tackled family, being different, diversity, identity, and all universal themes of coming-of-age.

Anyway, Eleanor & Park was mostly a slice-of-life novel chronicling these two misfits falling in love, with small conflicts dotted along the way. The biggest conflict would have to be the one at the end, which was frightening and sad and PLEASE-NO. However, I must admit that I wanted to shake Eleanor to CONTACT PARK DO NOT BREAK HIS HEART at the end. I absolutely hate noble idiocy especially if it's uncalled for and if it makes BOTH sides unhappy, but I do get that Eleanor needed time. STILL. POOR PARK BB.

All in all, I highly enjoyed Eleanor & Park although I didn't love it as much as I thought I would. Maybe it's expectations killing my reading experience, which I highly doubt because I was absolutely overjoyed and invested while reading it, but it just won't go down as one of my favorites ever EVER EVER. I read a review that E&P just brought them back to being sixteen and in love so maybe that's the problem because I don't have anything to look back to. (Here's the part where my best friend accuses me of being emotionally unavailable.) Obviously, I'll be reading more from Rainbow Rowell because I adore her characters and her writing. (I actually read Attachments right after finishing E&P.)

P.S. I will forever love Eleanor for introducing The Beatles to Park. A girl after my own heart.

About Rainbow Rowell

Rainbow Rowell writes books.
Sometimes she writes about adults (Attachments and Landline).
Sometimes she writes about teenagers (Eleanor & Park and Fangirl).
But she always writes about people who talk a lot. And people who feel like they're screwing up. And people who fall in love.
When she's not writing, Rainbow is reading comic books, planning Disney World trips and arguing about things that don't really matter in the big scheme of things.

She lives in Nebraska with her husband and two sons.

Website | Twitter